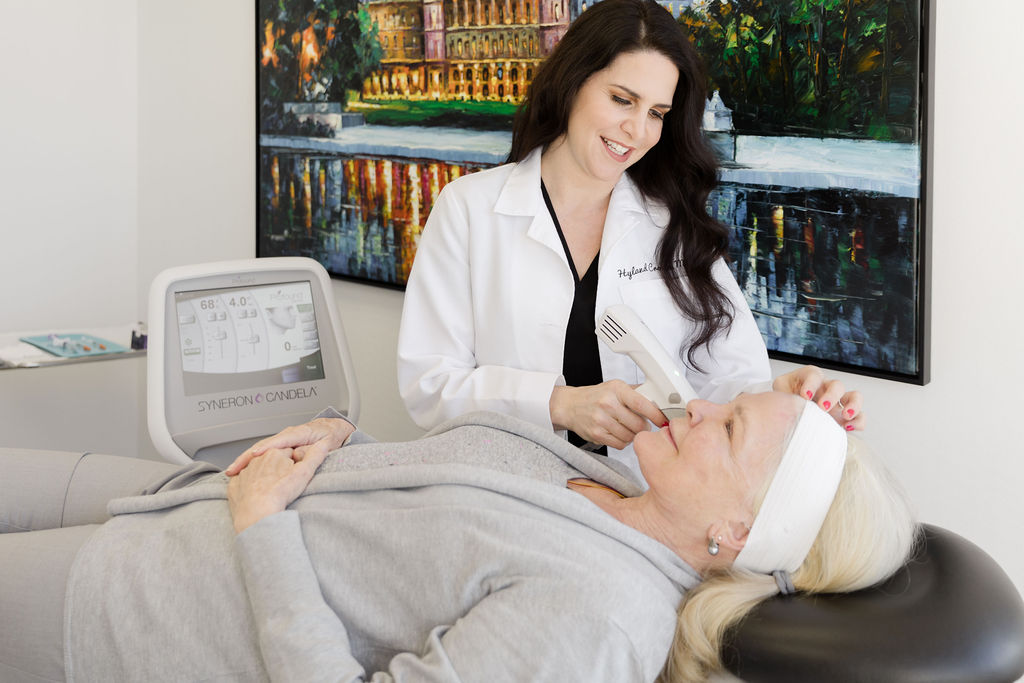 Cosmetic Laser Treatments in Chevy Chase, Maryland 
Lasers have truly revolutionized the cosmetic services industry. From scar removal to skin tightening, there's not much that a laser can't do when it comes to rejuvenation and looking your best at all times!
Cosmetic laser treatments work for both aesthetic and medical skin concerns, and lasers (light amplification by stimulated emission of radiation) are now even more cutting edge than ever before, promising sensational results.
Why Choose Laser Treatments?
Lasers treatments are precise, quick, long lasting, and offer minimal downtime. It's a win-win-win-win when you choose cosmetic laser treatments to address your aging or other issue. Rejuvenation and great skin are just a laser treatment away!
What Laser Treatments Are Available?
Dr. Cronin offers the following laser treatments at our Chevy Chase, Maryland location:(link to the landing pages after they're posted)
Resurfacing lasers, including Contour TRL, MicroLaserPeel, NanoLaserPeel for wrinkles, fine lines, and skin irregularities
ProFractional Laser for scar removal
Halo Hybrid Fractionated Laser for wrinkles, fine lines, decreasing pore size, and skin irregularities
SkinTyte Laser for sagging skin
Profound Microneedling Laser for Skin Tightening, Increasing Collagen, and Lifting (35% of a facelift)
Vbeam Perfecta for acne, rosacea, leg veins, and other skin concerns
BBL/IPL Forever Young Laser for brown spots,redness, and anti-aging
BBL Forever Clear for acne
BBL Forever Bare for hair removal
When Will I See Laser Treatment Results?
It depends on the procedure you choose and the size of the area being targeted, but many lasers offer fast results. In as little as one week, you could look like a whole new you! 
Am I a Good Candidate for Laser Skincare?
Many patients who wish to improve the appearance of their skin are good candidates for laser treatments, but it is dependent upon which one you choose. Most laser treatments are able to be safely performed on all skin tones and types.
Revujentate, revitalize, and glow with cosmetic laser treatments from Dr. Cronin. Contact our office today to book a consultation with Dr. Cronin to see which laser treatment is right for you. We guarantee we have a laser that's just right for you to help you achieve all your aesthetic goals!