This year, August 16th of 2023, is the first ever JUVÉDERM day. JUVÉDERM is a revolutionary cosmetic treatment that has gained immense popularity in recent years. It is a hyaluronic acid-based dermal filler, designed to address various facial concerns and achieve a more youthful and rejuvenated appearance. From erasing fine lines and wrinkles to adding volume and enhancing facial contours, JUVÉDERM offers a safe and non-surgical solution for those seeking a natural-looking improvement. In this article, we will explore everything you need to know about. JUVÉDERM. 
What is JUVÉDERM?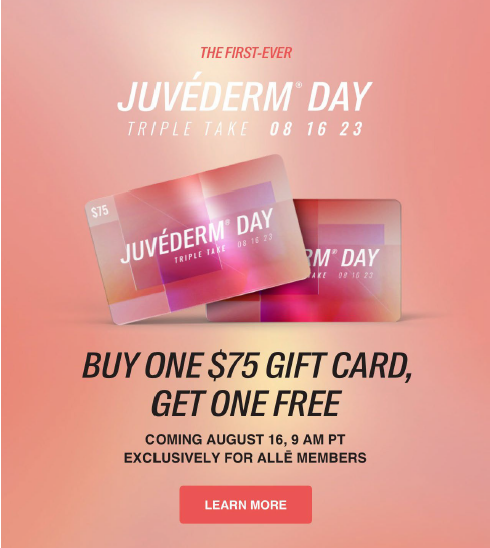 JUVÉDERM® is an FDA-approved injectable dermal filler. It is specially designed to provide temporary restoration and volume enhancement in specific facial regions for adults over the age of 21. This versatile collection offers a range of solutions to address different cosmetic concerns. JUVÉDERM VOLUMA XC is adept at adding volume to the cheeks, creating a lifted and contoured appearance, and enhancing the chin's profile.
Meanwhile, JUVÉDERM VOLBELLA XC and JUVÉDERM Ultra XC effectively augment and plump the lips. To tackle moderate to severe wrinkles and folds around the nose and mouth, like nasolabial folds or "laugh lines," JUVÉDERM VOLLURE® XC and JUVÉDERM Ultra Plus XC work wonders, smoothing the skin's texture.
Additionally, for individuals experiencing moderate to severe loss of jawline definition, JUVÉDERM VOLUX™ XC offers a robust filler option with a structural gel to restore a more defined jawline appearance. With its FDA-approved safety and efficacy, JUVÉDERM remains an exceptional choice for those seeking facial rejuvenation and enhancement.
What Are the Different JUVÉDERM Treatment Options?
JUVÉDERM offers a diverse range of six unique fillers, each tailored to address specific patient needs. These fillers are skillfully applied to add volume to the cheeks, enhance the chin, plump the lips, and smooth lines. 
What is the Process For Getting JUVÉDERM Treatments? 
The initial step involves scheduling a consultation with a licensed provider to assess your candidacy for the treatment. During this consultation, your medical history, including current medications, will be discussed, and your provider will thoroughly explain the potential risks associated with the filler procedure. This standard procedure applies to all injectable fillers. Once deemed a suitable candidate, your chosen JUVÉDERM product will be skillfully injected into the approved treatment area.
When Will I See Results After Treatments?
One of the most gratifying advantages of injectable fillers is the instant visibility of results! Following your treatment, you will notice immediate improvements. Patients may experience some temporary swelling, redness, and bruising, which typically diminishes over time, allowing your authentic results to shine through beautifully.
Celebrating JUVÉDERM Day in Chevy Chase
Are you ready to experience what the Juvéderm family of fillers has to offer? Contact Cronin Dermatology today to schedule a consultation. For Juvederm Day Deals, click here.